If all the women who've been sexually harassed or assaulted wrote #MeToo as a status on their social media, we could reveal a true sense of the magnitude of the problem.
Together, in the knowledge that we're part of a huge silent majority, we could change the silence to empowerment.
#MeToo This is what showed up on my news feed today.
It made me think how many sisters, cousins, mom's, aunts, grandmothers, friends, neighbors have kept silent for years. I thought I was terminally unique holding onto a secret that no one else had only to learn that I am among an army of other women that have been confronted at some point in their life with a similar encounter of sexual harassment in their lives.
Commonality doesn't make it acceptable, but familiarity breeds contempt.
It's scary. Statistically, the National Sexual Violence Resource Center says 1 in 3 women have experienced some form of sexual harassment in the work place and 1 in 10 men. Yes, men are as subject to poor behavior as women.
#MeToo needs to become #MeNoMore and #NoMore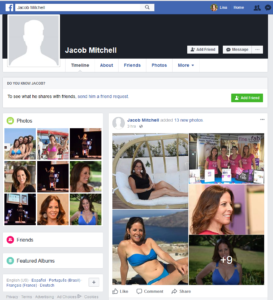 Timing is everything!!! This afternoon I am on Facebook and notice someone liking pictures that I have been tagged in by my husband Yardley. Not a big deal until the number of likes gets very large and it's going back a year.
Normally I would think nothing of it, but with the talk recently about Harvey Weinstein and voicing out against sexual harassment on CBS News, I found the timing of it all very interesting.
Upon further research, the person had no picture or information about himself, but what I found was a collection of not just me, but other women.
On one post he writes "sexy…sexy… I lust after her."
I sign into my husband's Facebook account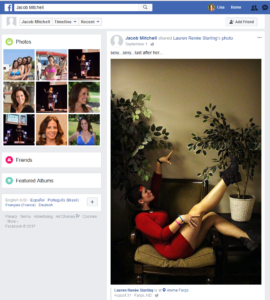 immediately and start deleting pictures he has of me that this guy put on his wall. But it didn't help, he found more and as I deleted he added.
I reported it to #FACEBOOK but through an automated response they suggest you ask the person to take down the pictures. To tell you the truth I am a little concerned about confronting this person since I do not know who he really is and where he is from.
This guy is sick. He is finding women and collecting us on his Facebook page. I understand there are people out there that will look at the pictures we post, I have no challenge with that, we posted them to be seen.
He wasn't just sharing the pictures my husband posted. He had to physically download the pictures and upload them to his profile page. Collecting pictures of me is a bit too weird.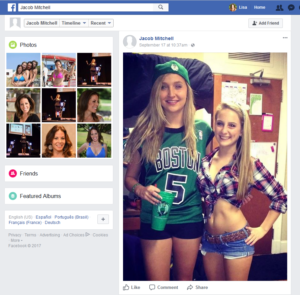 What went through my head immediately was:
Do these other women know they are being collected? Has he done anything to them? Will he do anything to them? Do I go to each one and notify them that this is happening without their consent? Am I to remain silent and then regret it in the future if something were to happen? That was just the start.
I decided to see if I can contact each one individually through private message to make them aware only to find that 95% of them were not attached to a name, they were downloaded and uploaded as I had been and harder to find. For those I could message, I did.
Then I did my best to find a way to tell Facebook to help us remove this guy and stop him. I found it very challenging as they only allow you to pick from 4 canned choices as your reason for reporting abuse.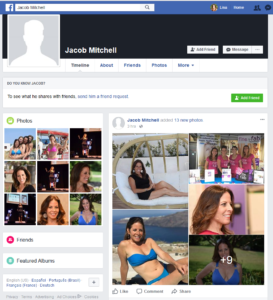 I decided to extend my quest to take him down and protect the other women that may or may not know they have a stalker and I posted it on my facebook profile. The support was amazing but the same frustration became apparent to others how difficult it is to get Facebook to remove someone that may not be serving the community.
This is not about Facebook! This is about freedom of speech and the right to be and do what you want without feeling in harm's way. This guy is invading my rights and those he is collecting.
Fortunately, I got several people to rally with me messaging Facebook for various reasons to take down the pictures of not just me, but every woman on his page.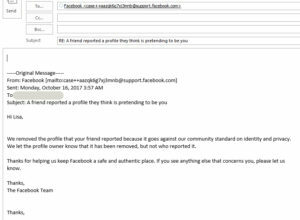 Through the efforts of many at 3:57pm Facebook sent me an email saying that they "removed the profile that my friend reported because it goes against our community standard on identity and privacy." A sigh of relief came over me, but only for a moment.
What if he just opens a new account and does it again? Will Facebook block his IP address to avoid this from happening again?
They don't really understand what was happening according to the reason they gave for shutting him down.
The mystery is not over yet for me.
I feel like I am on a mission to protect other women out there.
Putting on my cape and going to fight more crimes.
Or should I say, no longer #MeToo, but "MeNoMore!" nor "You"!
If we can help you on your journey and feel you don't have a voice and don't know how to get the help you really need then reach out to us. We are here to serve you.